Former Indian cricket player VB Chandrasekhar committed suicide by hanging at his home in Mylapore, Chennai, Thursday.
Chandrasekhar was found hanging on the ceiling of his room at his residence in Mylapore. His wife reported the incident to the police and stated that even after repeatedly knocking on the door, Chandrasekhar had not opened the door.
Chandrasekhar owns VB Kanchi Veerans Premier League Tamil Nadu and also manages a cricket academy in Velachery.
The police also confirmed that there were no suicide records in the room. Chandrashekar, it is believed, suffered losses because his TNPL franchise was not going well.
Investigation officer Senthil Murugan said, "This is a suicide case for now. Investigations are still ongoing. The bodies have been sent for corpses and we are awaiting reports. Chandrasekhar is under a lot of financial difficulties. He has a big problem. Debt. He has invested Rs 3 crore in the Kanchi Veerans TNPL team. A month ago, he received a notification from the bank. "
The veteran cricketer drank tea with his last family at 5:45 pm on Thursday before heading to his room where he was later found dead hanging.
BCCI on its Twitter handle has posted, "BCCI is sorry to inform that the former Indian opener VB Chandrasekhar no longer exists. Our sincere condolences to his family, friends and fans."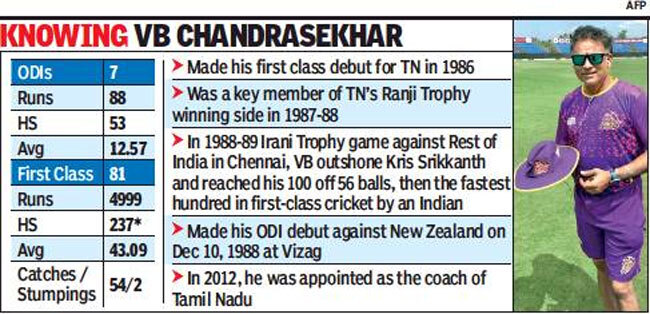 Cricketers also took to social media to express their surprise.
"Horrible news ... VB ... too fast. Shocking! Sincere condolences to his family and friends," wrote Anil Kumble.
"Very sad and surprised to learn of the death of my good friend VB Chandrasekhar. My sincere condolences to his family. Hopefully his soul is RIP," VVS Lakshman wrote.
"Very surprising to hear VB Chandrashekhar Indian cricket no longer exists ... very sad news .. still very young to go .. rest in peace VB .. Great loss ?? condolences for family ????" Harbanjan Singh