A Pakistani military plane on a training flight crashed in an urbanized area in the city of the Rawalpindi garrison early Tuesday, killing the five crew members and 12 civilians and causing a fire that left a pile of smoking debris.
The plane crashed into a poor town near an exclusive neighborhood in the garrison city that houses the army headquarters, creating a fireball that lit up the night sky and terrorized residents.
The military information wing said the plane was on a routine training mission when the accident occurred, adding that rescue officers had extinguished the fire caused by the accident and transferred the injured to a local hospital.
"The plane hit the side of the building and the structure in which it crashed completely collapsed," an army officer said at the scene.
The site, in a village on the edge of a complex of well-to-do homes called Bahia Town, was surrounded by military and rescue service vehicles and security officials pushed back a multitude of passersby.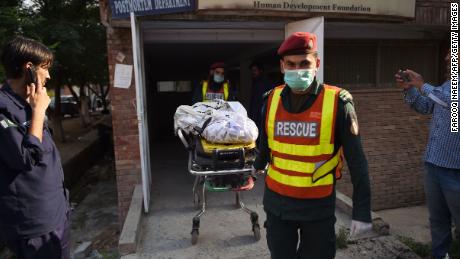 Rawalpindi is near the capital Islamabad and is where the headquarters of the army of Pakistan is located.
Pakistan has a history of aviation safety at checkered, with frequent plane and helicopter accidents over the years.
In 2016, a Pakistan International Airlines plane burst into flame after one of its two turboprop engines failed while traveling from remote northern Pakistan to Islamabad, killing more than 40 people.